Citizenship (Amendment) Act, 2019: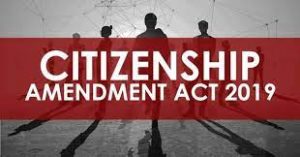 The Ministry of Home Affairs (MHA) missed the deadline of notifying rules under the Citizenship (Amendment) Act, 2019 (CAA).
Amidst the concerns related to CAA and for better clarity, the two parliamentary committees (committee on subordinate legislation) in the Lok Sabha and the Rajya Sabha had sought MHA to frame the rules that will govern the CAA.
If the government does not make rules and regulations, a law or parts of it will not get implemented.
The Benami Transactions Act of 1988 is an example of a complete law remaining unimplemented in the absence of regulations.
The CAA provides citizenship on the basis of religion to six undocumented non-Muslim communities (Hindus, Sikhs, Buddhists, Jains, Parsis and Christians) from Pakistan, Afghanistan and Bangladesh who entered India on or before 31st December, 2014.
It exempts the members of the six communities from any criminal case under the Foreigners Act, 1946 and the Passport Act, 1920.
The two Acts specify punishment for entering the country illegally and staying here on expired visas and permits.