Mob Lynching : Incident Of Killing And Burning Of Two Men In Haryana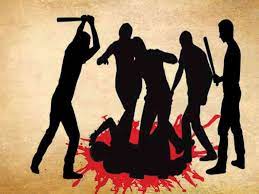 Incident of killing and burning of two men in Haryana on suspicion of illegal transportation, smuggling or slaughtering of cows by cow vigilantes highlight the issue of Mob Lynching.
Mob lynching refers to targeted violence by a large group of people which includes offenses against the human body or property, whether public or private.
The mob believes they are punishing the victim for some perceived wrongdoing, even if it's not necessarily illegal and take the law into their own hands disregarding legal rules and procedures.
Cow vigilantism or lynching in the name of Cow Protection poses a serious threat to the secular fabric of the nation. Killing of people just on the suspicion of beef depicts the intolerance among the vigilantes.
Mob lynching is a violation of human dignity, Article 21 of the Constitution, and a gross infringement of the Universal Declaration of Human Rights.
Such incidents violate the Right to Equality and Prohibition of discrimination, which are enshrined in Articles 14 and 15 of the Constitution of India.
However, it is nowhere mentioned in the law of the land and is hence simply put as murder since it has not been yet incorporated under the Indian Penal Code.