Moskit Cruise Missiles : Test-Fired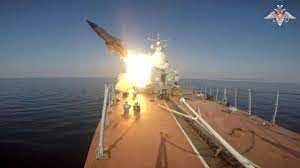 Russia's Defense Ministry says Moscow has test-fired two Moskit cruise missiles in the Sea of Japan
Moskit cruise missiles is a supersonic anti-ship cruise missile that has conventional and nuclear warhead capacity
It has the fastest flying speed among all anti-ship missiles in today's world.
It reaches Mach 3 at a high altitude and its maximum low-altitude speed is M2.2.
It is capable of destroying a ship within a range of up to 120 kilometres.
A cruise missile either locates its target or has a preset target.
It navigates using a guidance system such as inertial or beyond visual range satellite GPS guidance and comprises a payload and aircraft propulsion system.
Ballistic Missiles are launched directly into the upper layers of the earth's atmosphere.
They travel outside the atmosphere, where the warhead detaches from the missile and falls towards a predetermined target.