Vemband And Ashtamudi Lakes : Penalty Imposed By NGT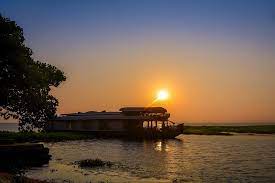 The National Green Tribunal (NGT) imposed a penalty of Rs 10 crore on the Kerala government for failing to protect the Vembanad and Ashtamudi lakes.
Vemband is the largest lake in Kerala and the longest Lake in India.
It is also known as Vembanad Kayal, Vembanad Kol, Punnamada Lake (in Kuttanad) and Kochi Lake (in Kochi).
The lake has its source in four rivers, Meenachil, Achankovil, Pampa and Manimala.
It is separated from the Arabian Sea by a narrow barrier island and is a popular backwater stretch in Kerala.
Vallam Kali (i.e Nehru Trophy Boat Race) is a Snake Boat Race held every year in the month of August in Vembanad Lake.
In 2002, it was included in the list of wetlands of international importance, as defined by the Ramsar Convention.
The Government of India has identified the Vembanad wetland under the National Wetlands Conservation Programme.
Ashtamudi Lake (Ashtamudi Kayal), in the Kollam District of the Indian state of Kerala, is the most visited backwater and lake in the state.
It possesses a unique wetland ecosystem and a large palm-shaped water body, second only in size to the Vembanad estuary ecosystem of the state.