Motor Vehicles Agreement (MVA):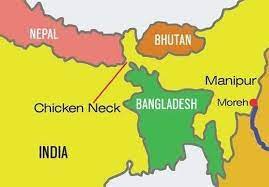 With Bhutan continuing to sit out the Motor Vehicles Agreement (MVA) of the sub-regional Bangladesh-Bhutan-India-Nepal (BBIN) grouping, a meeting of the other three countries was held to discuss the next steps in operationalising the agreement for the free flow of goods and people between them.
The original BBIN MVA was signed by all four countries in June 2015, but after objections in Bhutan over sustainability and environmental concerns, the Bhutanese Parliament decided not to endorse the plan.
The then Tobgay Tshering government agreed to allow the other three countries to go ahead with the project for vehicular movement (BIN-MVA) in 2017.
Officials said that while India remained "hopeful" that Bhutan could change its position on the project, it was decided at a meeting in November 2021 to go ahead for now, given that there are no new signals from Thimphu on the project.
Progress on the seven-year-old project has been slow, despite several trial runs being held along the Bangladesh-India-Nepal road route for passenger buses and cargo trucks. There are still some agreements holding up the final protocols.
Meanwhile, Prime Minister Narendra Modi is expected to travel to Colombo at the end of March to attend the summit of another sub-regional grouping, BIMSTEC (Bay of Bengal Initiative for Multi-Sectoral Technical and Economic Cooperation), which includes Bangladesh, Nepal and Bhutan as well.