Noble's Helen Butterfly: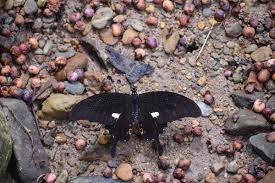 Extremely rare Noble's Helen butterfly was recorded for the first time in India from the Namdapha National Park in Arunachal Pradesh.
Noble's Helen butterfly:
It is a swallowtail butterfly with a wingspan of 100–120 mm.
It has an extra white spot in the dorsum of the forewing.
Scientific name: Papilio noblei
They are found in Myanmar, Yunnan, Hubai (China), North Thailand, Laos, Cambodia, Vietnam.
The species is known to be very rare in occurrence in its previously known ranges.
Namdapha National Park:
It lies on the international border between India and Myanmar (Burma) within Changlang District in the state of Arunachal Pradesh.
The Namdapha protected area is located between Dapha Bum ridge of Mishmi Hills, of North Eastern Himalayas and Patkai Ranges.