Bandhavgarh Tiger Reserve : Female Tiger Cub Found Dead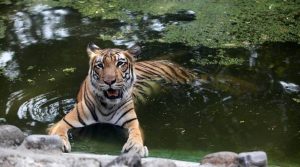 A seven-month-old female tiger cub was found dead under suspicious circumstances at Bandhavgarh Tiger Reserve.
Bandhavgarh Tiger Reserve is located in the Umaria district of Madhya Pradesh.
It is spread over the Vindhya hills.
Bandhavgarh was declared a national park in 1968 and then became Tiger Reserve in 1993.

It is known for the Royal Bengal Tigers.

The density of the tiger population at Bandhavgarh is the highest known in India as well as in the world.

The vegetation of Bandhavgarh is specially filled with Sal forestin the valleys, and Bamboo stretches on the lower slopes of the region.
The important prey species consists of chital, sambhar, barking deer, nilgai, chinkara, wild pig, chowsingha, langur and rhesus macaque.
Dependent upon them are the major predators like tiger, leopard, wild dog, wolf and jackal.