Myocardial Infarction : New Study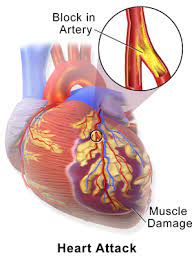 Red blood cells exposed to oxygen deficiency protect against myocardial infarction (heart attack), according to a new study.
Red Blood Cells (RBCs) are one of the components of blood. (The others are plasma, platelets and white blood cells.)
They deliver oxygen to the tissues throughout the human body.
Oxygen turns into energy, and tissues release carbon dioxide.
RBCs also transport carbon dioxide back to the lungs to be exhaled.
RBCs made are made in the bone marrow.
They typically live for about 120 days, and then they die.
RBCs contain a protein called haemoglobin, which binds to oxygen in the lungs, forming oxyhemoglobin.
Haemoglobin also helps carry carbon dioxide back to the lungs as carbaminohemoglobin.
RBCs are biconcave, disc-shaped cells with a dimple in the centre on both sides. This unique shape increases the surface area of the cell, allowing for efficient gas exchange.
It is covered with a membrane composed of lipids and proteins and lacks a nucleus.