National Statistics Day: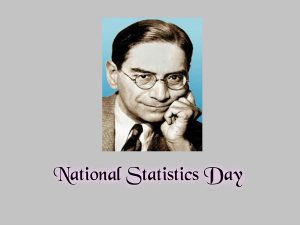 Every year, the Statistics Day is celebrated on 29th June, the birth anniversary of Prof. Prasanta Chandra Mahalanobis, to recognise his invaluable contribution in establishing the National Statistical System.
Aim:

To popularise the use of statistics in everyday life and sensitise the public as to how statistics help in shaping and framing policies.

Theme for 2021:

Sustainable Development Goal (SDG)- 2 (End Hunger, Achieve Food Security and Improved Nutrition and Promote Sustainable Agriculture).

Winners of Prof. P.C. Mahalanobis National Award in Official Statistics, 2021 and Prof C. R. Rao National Award for Young Statistician, 2021 will be announced
In 2019, the Ministry of Statistics and Programme Implementation instituted Prof. P C Mahalanobis National Award in official statistics for recognizing outstanding achievement of official statisticians in central government, state governments and institutions.
The Ministry also recognises the outstanding contribution for high-quality research work in the field of applied and theoretical statistics benefitting the official statistical system through the Prof. C R Rao and Prof. P V Sukhatme awards, awarded in alternate years.