Cyber Threat To Mobile Banking: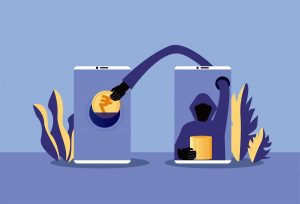 The lack of adequate cybersecurity and the dearth of talent in banking could potentially lead to a further rise in cyberattacks on user devices.
According to a 2020 Statista survey across 25 States in India, two-third respondents said they had a smartphone.
Of these, half said they sent and received money digitally, and about 31% said they had a mobile app for banking.
Nearly 14% said they used their mobile phones for banking-related purposes.
Global cybersecurity firm Kaspersky warns of an increase in cyberattacks on Android and iOS devices in the Asia Pacific (APAC) region.
One mobile banking trojan, called Anubis, has been targeting Android users since 2017.
Roaming Mantis is another prolific malware targeting mobile banking users.
There is push from regulators to make payment platforms interoperable at a time when the demand for technical experts is a serious concern in the banking industry.