Wildfires In Himachal Pradesh: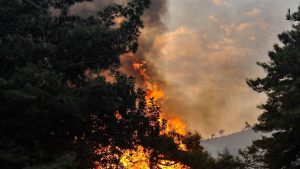 The prolonged dry spell coupled with unusually high temperatures in recent days has triggered many wildfires in Himachal Pradesh, destroying several hectares of forest cover across many parts of the hill State.
The early onset of summer this year in the hills posed a major challenge to the State government's efforts to control forest fires and with dry weather conditions and high temperatures expected to continue, the task has become more difficult.
Till April 28 this year, as many as 719 incidents of forest fires have been reported across the State, affecting close to 5,662 hectares under forest circles of Shimla, Chamba, Bilaspur, Dharamshala, Hamirpur, Kullu Mandi, Rampur, Nahan and the Great Himalayan National Park at Shamshi in the Kullu region.
The estimated loss so far has been pegged at around ₹1.4 crore.
In 2018-19, the State witnessed as many as 2,544 forest fire incidents while in 2019-20 the figure was down to 1,445. In 2020-21, there were 1,045 forest fire incidents and in 2021-22 as many as 1,275 fire instances were reported.
The maximum number of forest fires are human-generated — many accidental but a few deliberate ones. In several areas, there is a practice of burning the pasture lands to get rid of the dry leaf litter to ensure fresh grass growth for livestock.
Usually, when there is intermittent rainfall, such fires do not go out of control but when there's prolonged dry weather, many of these fires go out of control.