National Monetisation Pipeline (NMP):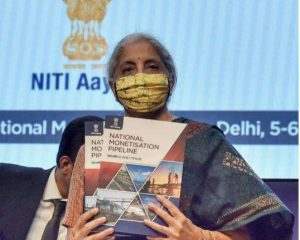 To make the National Monetisation Pipeline (NMP) a success, the government should give Income Tax breaks to attract retail investors into instruments such as Infrastructure Investment Trusts (InvITs), the NITI Aayog has recommended.
The Centre's think tank driving the NMP, estimated to raise almost ₹6 lakh crore for the exchequer over four years, has also called for bringing such trusts within the ambit of the Insolvency and Bankruptcy Code (IBC) to provide greater comfort to investors.
Bringing in policy and regulatory changes to scale up monetisation instruments such as InvITs and Real Estate Investment Trusts (REITs) and expand their investor base have been identified as a critical element for the NMP.
The government plans to use the InvIT and REIT route to monetise public assets such as highways, gas pipelines, railway tracks and power transmission lines.
Section 54EC of the Income Tax Act, 1961:

More tax-efficient and user-friendly mechanisms like allowing tax benefits in InvITs as eligible security to invest under Section 54EC of the Income Tax Act, 1961, are important starting points for initiating retail participation in the instruments
Section 54EC allows taxpayers to offset long-term capital gains from transactions in immoveable properties through investments in bonds issued by some government-backed infrastructure firms.