Who Are Dimasas?: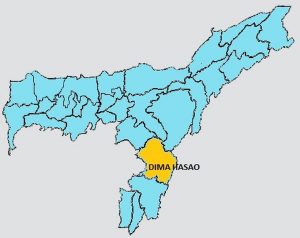 A suspected militant attack left five truckers dead in Assam's Dima Hasao hill district. Intelligence inputs suggest that an outfit called the Dimasa National Liberation Army (DNLA) was behind the attack.
The Dimasas (or Dimasa-Kacharis) are the earliest known rulers and settlers of Assam, and now live in Dima Hasao, Karbi Anglong, Cachar, Hojai and Nagaon districts of central and southern Assam, as well as parts of Nagaland.
Prior to Ahom rule, the Dimasa kings — believed to be the descendants of the rulers of the ancient Kamarupa kingdom — ruled large parts of Assam along the south bank of the Brahmaputra between the 13th and 16th centuries.
Their earliest historically known capital was Dimapur (now in Nagaland), and later Maibang in North Cachar Hills.
The hill districts of Assam — Karbi Anglong and Dima Hasao (earlier North Cachar Hills) — have had a long history of insurgency by Karbi and Dimasa groups which peaked in the mid-1990s, and was rooted in a core demand of statehood.
Both districts are now protected under the Sixth Schedule of the Constitution, and allows for greater political autonomy and decentralised governance in certain tribal areas of the Northeast.
They are run by the North Cachar Hills Autonomous Council and the Karbi Anglong Autonomous Council respectively.