National Waterways 2 Gets Connected With National Waterways 1: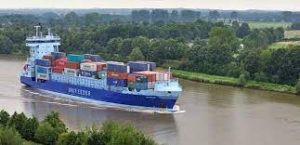 The Union Minister of Ports, Shipping & Waterways received the maiden voyage of food-grains from Patna to Pandu port via Bangladesh in Guwahati (Assam).
Inland Waterways Authority of India (IWAI) is planning to run a fixed schedule sailing between NW1 and NW2 heralding a new age of inland water transport for Assam & the Northeast India.
The Inland Vessels Bill, 2021, was also approved to regulate safety, security and registration of inland vessels.
The start of cargo movement through ships through Indo Bangladesh Protocol Route (IBRP) marks the beginning of a new age of economic prosperity for the whole region of Northeast.
This will pave the way for growth & development of inland water transport.
This will also provide the business community a viable, economic & ecological alternative and will also play a pivotal role in energising India's northeast as the engine of growth.
The sustained effort to rejuvenate the historical trade routes via Bangladesh got a fillip under PM Gati Shakti.
It has been envisioned that Northeast will slowly turn & convert into a connectivity hub.
The integrated development plan, under PM Gati Shakti, has been envisioned in order to amp up swift movement of cargo over Brahmaputra.
Inland Waterways:
India has about 14,500 km of navigable waterways which consist of rivers, canals, backwaters, creeks, etc.
As per the National Waterways Act 2016, 111 waterways have been declared as National Waterways (NWs).
NW-1: Ganga-Bhagirathi-Hooghly River System (Prayagraj-Haldia) with length 1620 km is the longest National Waterway in India.
The Inland Waterways Authority of India (IWAI) is implementing the Jal Marg Vikas Project (JMVP) for capacity augmentation of navigation on the Haldia-Varanasi stretch of Ganga (part of NW-1) with the technical and financial assistance of the World Bank.