Naval Defence Drills In The Sea Of Japan: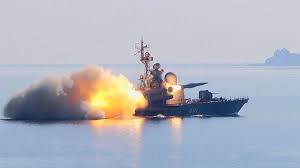 Russia's Pacific Fleet recently conducted naval defence drills in the Sea of Japan.
Sea of Japan is a marginal sea of the western Pacific Ocean.
It is located in Eastern Asia that is bounded by Japan and Sakhalin Island to the east and by Russia and Korea on the Asian mainland to the west.
Its area is 377,600 square miles (978,000 square km).
The sea itself lies in a deep basin, separated from the East China Sea to the south by the Tsushima and Korea straits and from the Sea of Okhotsk to the north by the La Perouse (or Sōya) and Tatar straits.
To the east it is also connected with the Inland Sea of Japan by the Kanmon Strait and to the Pacific by the Tsugaru Strait.
It influences the climate of Japan because of its relatively warm waters.
There are no large islands in the Sea of Japan. Except for the South Korean island of Ulleungdo, all the other small islands are situated near the eastern coast of the sea.