Nawegaon-Nagzira Tiger Reserve : Young Male Tiger Recently Died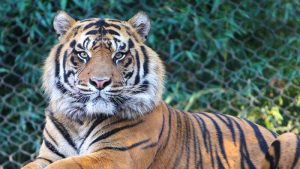 A young male tiger recently died in a road hit near Murdoli village in the buffer zone of the Nawegaon-Nagzira Tiger Reserve in Maharashtra.
Nawegaon-Nagzira Tiger Reserve is situated in Gondia and Shahdara District of Maharashtra. It comprises Nawegaon National Park, Nawegaon Wildlife Sanctuary, Nagzira Wildlife Sanctuary, New Nagzira Wildlife Sanctuary and Koka Wildlife Sanctuary.
It is connected with many surrounding tiger reserves like Pench, Kanha, Tadoba Andhari Tiger Reserve, Indravati Tiger Reserve etc.
Southern Tropical Dry Deciduous Forestwhich includes dry mixed forests to moist forest type.
There are 364 species of plants and the major trees are: Terminalia tomentosa, Lagerstroemia parviflora, Anogeisus lotifolia, Pterocarpus marsupium, Diospyrus melanoxylon, Ougeinia oogenesis etc.
The major wild animals are: Tiger, Panther, Small Indian Civet, Palm Civet, Wolf, Jackal, Wild Dog, Sloth Bear, Ratel, Common Giant Flying Squirrel, Gaur, Sambar, Chital, Four Horned Antelope, Mouse Deer and Pangolin.