Russia-China Joint Naval Drills: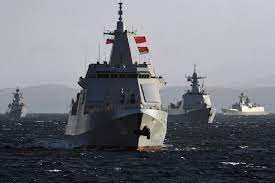 Russia and China have begun a joint naval exercise in the East China Sea.
It involves firing exercises and anti-submarine drills.
The main goal of the drills is to strengthen naval cooperation between the Russian Federation and the People's Republic of China and to maintain peace and stability in the Asia Pacific region.
This joint exercise is directed at demonstrating the determination and capability of the two sides to jointly respond to maritime security threats and further deepen the China-Russia comprehensive new-era strategic partnership of coordination.
Russia and China have also engaged in frequent military drills over the past year, including in May 2022 when the two countries flew nuclear-capable bombers.
That was followed with a sweeping joint exercise in September 2022 that involved more than 2,000 Chinese troops, hundreds of military vehicles, combat aircraft and warships.