Cordy Gold Nanoparticles (Cor-AuNPs) : Fungus-Powered Nanogold Particles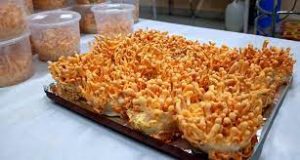 Assam's Bodoland University is part of collaborative research on fungus-powered biosynthesised nanogold particles that has received an international patent from Germany.
Cordy gold nanoparticles (Cor-AuNPs) is the outcome of a collaborative experiment by scientists from four Indian institutions, has earned an international patent from Germany.
These nanoparticles, derived from the synthesis of the extracts of Cordyceps militaris and gold salts, could make drug delivery in the human body faster and surer.
Cordyceps militarisis a high value parasitic fungus, lab-grown at the Department of Biotechnology's Technology Incubation Centre (TIC) in Bodoland University, one of the collaborators of the patented research work.
Gold salts are ionic chemical compounds of gold generally used in medicine.
Wild Cordyceps mushroom is found in the eastern Himalayan belt.
Penetration in the cells is more when the drug particles are smaller.
Cordyceps militaris, called super mushroom because of its tremendous medicinal properties, adds bioactive components to the synthesis of gold nanoparticles for better penetration.