New European Climate Law: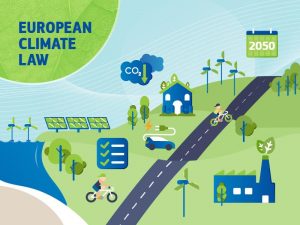 The European Union has unveiled some of the world's most ambitious proposals, titled "Fit for 55", to reduce carbon emissions and wean its 27 members off fossil fuels.
These measures are a EU's roadmap to achieve its target to reduce emissions by 55% by 2030, compared with 1990 levels.
The roadmap includes:

It takes particular aim at transport, both personal and commercial, across the block.
Cars with combustion engines, for example, would not be produced within the bloc from 2035.
Financial incentives would be offered to countries that replace traditional fuel with a sustainable alternative in aviation and maritime transportation.
Minimum tax rate for petrol and gasoline fuels would be increased by significant margins, as would tax on kerosene.

The proposed carbon border would place tariffs on certain goods produced outside the bloc, depending on their carbon footprint, subjecting them to the same standards that already exist for goods produced within the EU.
The plan is to discourage EU companies from importing cheaper materials from places where environmental standards are lower.
Lowering of the cap in the EU Emissions Trading System (ETS):

Created in 2005, the ETS works by placing a cap on the carbon emissions companies within the EU are allowed to produce each year.
If a company goes over, they are fined. They can also buy "allowances" from others in the ETS, roll over unused allowances.