New Shephard: Tourists To Space: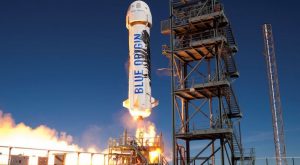 Last week, Amazon founder and billionaire Jeff Bezos's space company called Blue Origin concluded the online auction for the first seat on New Shephard, a rocket system meant to take tourists to space. The seat went for a winning bid of $28 million.
Blue Origin is an American privately-funded aerospace manufacturer and sub-orbital spaceflight services company headquartered in Kent, Washington.
It was founded in 2000 by Jeff Bezos, the founder, and chief executive officer of Amazon.
New Shephard
New Shepard is blue origin's reusable suborbital rocket system designed to take astronauts and research payloads past the Kármán line – the internationally recognized boundary of space.
New Shephard has been named after Mercury astronaut Alan Shephard – the first American to go to space.
Alan Shepard was an American astronaut.
In 1961, he became the second man and the first American to travel into space, and in 1971, he walked on the Moon.
Project Mercury was the first human spaceflight program of the United States, running from 1958 through 1963.