Nihangs: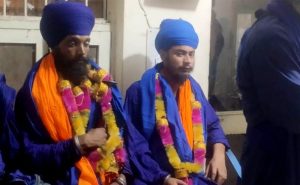 Last year, a group of Nihangs had chopped off the hand of a policeman in Patiala with a sword after he asked them to show 'movement passes' during the Covid lockdown.
This year, they have again killed a man near Singhu border in New Delhi, allegedly for desecrating a sacred text.
Nihang is an order of Sikh warriors. They are characterised by blue robes, antiquated arms such as swords and spears, and decorated turbans surmounted by steel quoits.
Etymologically the word nihang in Persian means an alligator, sword and pen but the characteristics of Nihangs seem to stem more from the Sanskrit word nihshank which means without fear, unblemished, pure, carefree and indifferent to worldly gains and comfort.
Sources trace their origin to Guru Gobind Singh's younger son, Fateh Singh (1699-1705), who once appeared in the Guru's presence dressed in a blue chola and blue turban with a dumala (piece of cloth forming a plume).
On seeing his son look so majestic, the Guru remarked that it shall be the dress of Nihangs, the reckless soldiers of the Khalsa.
Nihangs observe the Khalsa code of conduct in its strictest sense. They do not profess any allegiance to an earthly master. Instead of saffron they hoist a blue Nishan Sahib (flag) atop their shrines.