NMCG-TERI's Centre Of Excellence (CoE) On Water Reuse: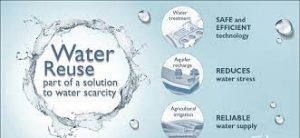 The Director General of National Mission for Clean Ganga (NMCG) and the Director General of The Energy and Resources Institute (TERI) launched the NMCG-TERI's Centre of Excellence (CoE) on Water Reuse at the TERI Headquarters in New Delhi.
The CoE on Water Reuse is the first of its kind to be established in the country through a collaboration between NMCG and TERI.
The Centre is a quadripartite alliance between NMCG, TERI, industry partners and industry representative bodies, to come up at the TERI campus in Gwal Pahari, Gurugram.
It will be meeting the objectives of the Ganga Knowledge Centre (GKC) to design and foster research and innovation for low-cost, effective and integrated treatment technologies, which could bridge the current treatment gaps, augment capacities and provide safe treated water for reuse.
Hence this CoE is also the first of its kind that will match the activities envisaged under GKC.