Odia Adikabi Sarala Das's 600th Birth Anniversary: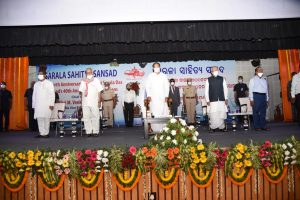 The Vice President addressed Odia Adikabi Sarala Das's 600th birth anniversary function in Cuttack.
Sarala Das was one of the great scholars of Odia literature.
He was the first scholar who wrote his works in Odia in 15th century A.D.
Best known for three Odia books, Mahabharata, Vilanka Ramayana and Chandi Purana.
He also wrote the book Laxmi Narayana Vachanika.
He started writing his Mahabharata in the reign of Kapileswar, otherwise known as Kapilendra, the famous Gajapati king of Odisha (AD 1435–67).
Odia Language:
Oldest of the eastern group of the Indo-Aryan family, Odia is derived from Ardhamagadhi Prakrit.
Odia is one of the six languages that got Classical Status in India.
A language officially "scheduled," in the Indian constitution.