Report On Children And Armed Conflict: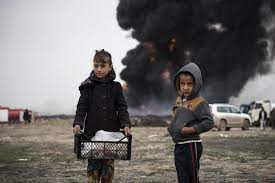 First time since 2010, the United Nations Secretary-General has removed India from the 2023 report on Children and Armed Conflict in view of measures taken by the Indian government to protect children.
India was previously accused of recruiting and using boys in armed groups in Jammu and Kashmir (J&K).
In 2022, a higher number of violations against children were confirmed in J&K.
Among the various types of violations, the highest numbers were reported for the killing of 2,985 children and the maiming (wound or injured) of 5,655 children, totaling 8,631 affected children.
This was followed by the recruitment and use of 7,622 children and the abduction of 3,985 children. Additionally, children were detained either for their actual or alleged association with armed groups (2,496), including those recognised as terrorist groups by the UN or for reasons related to national security.
Countries recording the highest number of violations were the Democratic Republic of the Congo (DRC), Israel, the State of Palestine, Somalia, Syria, Ukraine, Afghanistan, and Yemen.
Report on Children and Armed Conflict (CAAC):
25 years ago, in December 1996, the UN General Assembly (UNGA) took the unprecedented decision to create a mandate to protect children from hostilities and adopted resolution 51/77 which created the CAAC mandate.
51/77 resolution recommended that the Secretary-General appoint for a period of three years, a Special Representative on the impact of armed conflict on children.
Objective is to Strengthen the protection of children affected by armed conflict, raised awareness, promote the collection of information about the plight of children affected by war and foster international cooperation to improve their protection.
The report also mentioned the detention, killing, and injuring of children by security forces.