Sub-Mission On Agricultural Mechanization (SMAM) Scheme: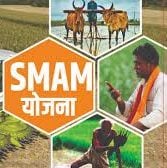 The Government of India has released funds for various activities of Farm Mechanization under the Sub-Mission on Agricultural Mechanization (SMAM) scheme.
The Ministry of Agriculture and Farmers Welfare launched SMAM in 2014-15.
Under it, the subsidy is provided for the purchase of various types of agricultural equipment and machinery to the extent of 40-50% for States other than NER (North Eastern Region) States and for the NER States, it is 100% limited to Rs.1.25 lakhs per beneficiary.
The agriculture ministry has also developed a Multilingual Mobile App, 'CHC (Custom Hiring Centres)- Farm Machinery' which connects farmers with Custom Hiring Service Centres situated in their locality.
Aim: Increasing the reach of farm mechanization to small and marginal farmers and to the regions and difficult areas where farm power availability is low.
Objectives:

Promoting 'Custom Hiring Centres' and 'Hi-tech Hubs of High-Value Machines' to offset the adverse economies of scale arising due to small and fragmented landholding and the high cost of individual ownership.
Creating awareness among stakeholders through demonstration and capacity building activities.
Ensuring performance testing and certification of agricultural machines at designated testing centres located all over the country.