Pal-Dadhvav Massacre: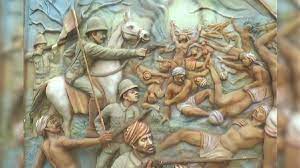 On March 7, the Gujarat government marked 100 years of the Pal-Dadhvav killings, calling it a massacre "bigger than the Jallianwala Bagh". Before this, the incident had been featured on the state's Republic Day tableau.
The Pal-Dadhvav massacre took place on March 7, 1922, in the Pal-Chitariya and Dadhvaav villages of Sabarkantha district, then part of Idar state.
The day was Amalki Ekadashi, which falls just before Holi, a major festival for tribals. Villagers from Pal, Dadhvav, and Chitariya had gathered on the banks of river Heir as part of the 'Eki movement', led by one Motilal Tejawat.
The movement was to protest against the land revenue tax (lagaan) imposed on the peasants by the British and feudal lords.
The Mewad Bhil Corps (MBC), a paramilitary force raised by the British open-fired on the gathering.
While the British claimed some 22 people were killed, the Bhils believe 1,200-1,500 of them died.