Sagar Kavach : Coastal Security Exercise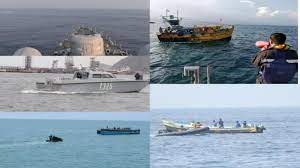 The coastal security exercise 'Sagar Kavach' is set to unfold its strategic manoeuvres along the Kerala and Mahe coasts.
The exercise, conducted semi-annually, is a collaborative effort with active participation from various central and state agencies, showcasing a unified approach to fortifying India's coastal defences.
Coordinated by the Indian Coast Guard, 'Sagar Kavach' brings together an amalgamation of forces, including the Indian Navy, Coastal Police/State Police, Intelligence Bureau, Customs, CISF, Department of Port, Department of Fisheries, Directorate General of Lighthouse and Lightships (DGLL), and Kadalora Jagiratha Samithi.
The exercise is designed to address the unique complexities of the coastal terrain, ensuring that security mechanisms are robust and adaptive to various scenarios.
Strategic Division: Attack vs. Defence Forces
The participating units in the exercise are strategically divided into two teams: Attack (Red) and Defence (Blue) forces.
The Red Forces simulate infiltration attempts into coastal areas from seaward, challenging the coastal defences.
In contrast, the Blue Forces counteract these simulated threats by establishing Coastal Security Surveillance to intercept and neutralise any infiltration attempts.
Recognising the pivotal role of fishermen in coastal security, the exercise emphasizes the need for their active involvement.
Fishermen are urged to promptly report any unknown vessels operating in proximity to the coast to the Indian Coast Guard.
This collaborative approach aims to enhance the eyes and ears along the coastal region, turning the local fishing community into a valuable asset for security.