Paryushan Parv : Festival Of Jainism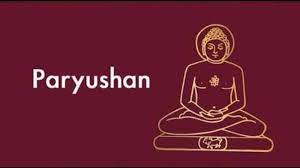 Paryushan Parv is a significant festival in Jainism, observed by both Digambara and Shwetambar communities.
It is a time for deep reflection, repentance, and redemption for Jains.
Paryushan Parv inspires individuals to cultivate virtuous qualities. It involves fasting, penance, meditation, and self-reflection, aiming for soul purification and vowing to avoid future transgressions. It's a time for seeking righteousness and spiritual purity, ultimately aiming for salvation.
Five Duties of Paryushan: These include Samvatsari (forgiveness and reconciliation), Keshlochan (introspection and self-improvement), Pratikraman (seeking forgiveness for past wrongdoings), Penance (commitment to spiritual growth), and self-criticism and apology for past mistakes.