World Day To Combat Desertification And Droughts: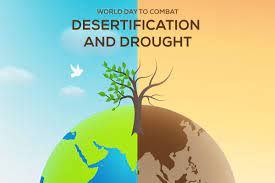 World Day to Combat Desertification and Drought is observed every year on 17th of June.
On this day, Ministry of Environment, Forest and Climate Change (MoEF&CC) organized Desertification and Drought Day.
The Union Minister released Forest Stewardship Council's Forest Stewardship Standard for India (FSC FSSI).
FSC is a globally recognized certification system which sets criteria for audit of companies associated with timber related products.
It is a unique moment to remind everyone that land degradation neutrality is achievable through problem-solving, strong community involvement and cooperation at all levels.
This Year's Theme: Rising up from drought together.
It emphasizes the need for early action to avoid disastrous consequences for humanity and the planetary ecosystems.