Pasumpon Muthuramalinga Thevar: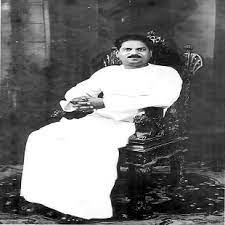 Prime Minister Narendra Modi paid tributes to the freedom fighter — Pasumpon Muthuramalinga Thevar — on the occasion of his guru pooja.
Pasumpon Muthuramalinga Thevar:
Born on October 30, 1908, in Pasumpon in the Ramanathapuram district of Tamil Nadu, he was a freedom-fighter cum spiritual leader and was seen as a deity among the Mukulathor community.
He did not accept traditional Hinduism because it supported the 'Varnashrama'.
He regularly fought against the evils of the Hindu religion.
He became a full-time member of the Congress party and attended the 1927 Congress session at Madras as a volunteer when he was just 19.
He became a close aide of Netaji Subhas Chandra Bose.
He was elected three times to the national parliamentary constituency of the All India Forward Bloc.
He supported the temple entry movement and he helped the activist Vaidyanatha Iyer take Dalits to Meenakshi Temple in Madurai.
He was instrumental in getting the Criminal Tribes act repealed after continuous efforts in 1946.