Pauradhwani Program : Kerala State Literacy Mission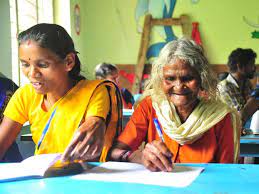 The Kerala State Literacy Mission (KSLM) is launching the 'Pauradhwani' program in Ernakulam and eight other districts to shape informed and independent citizens.
This program aims to instil scientific aptitude, independent thinking, secularism, democratic spirit, constitutional values, and awareness about rights among the population.
'Pauradhwani' has a six-point motto, emphasizing the

rights of marginalized sections
Democracy
Brotherhood
Building an egalitarian society

The program covers topics such as the independence struggle, forest rights, rules for coastal areas, women-centric rules, and rights and laws governing children, health, and nutrition.