Pay Roll Automation For Disbursement Of Monthly Allowances (PADMA):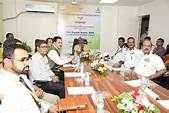 The Ministry of Defense inaugurated PayRoll Automation for Disbursement of Monthly Allowances (PADMA), an automated Pay & Allowances module for the Indian Coast Guard.
PADMA is an automated platform leveraging latest technology which will provide seamless and timely disbursal of Pay & Allowances to around 15,000 Indian Coast Guard personnel.
This module has been developed under the aegis of the Defense Accounts Department and will be operated by Pay Accounts Office Coast Guard, Noida.
The launch marked the beginning of the Centralized Pay System (CPS), the foundation of which is being laid down by the Defense Accounts Department Headquarters to provide one stop pay accounting solutions for all organizations under the Ministry.
Launch of PADMA will strengthen the Digital India Vision. Also, it is an 'Atmanirbhar Bharat' initiative as the entire module has been designed and developed by Indian entrepreneurs assisted by domain experts.
Indian Coast Guard:
It is a maritime law enforcement and search and rescue agency of India with jurisdiction over its territorial waters including its contiguous zone and exclusive economic zone.
Contiguous zone: It is a band of water extending farther from the outer edge of the territorial sea to up to 24 nautical miles from the baseline.
Special Economic Zone (SEZ): It is an area in a country that is subject to different economic regulations than other regions within the same country.
It comes under the under the Ministry of Defense.
The concept of forming ICG came into being after the 1971 war.
The blueprint for a multidimensional Coast Guard was conceived by the visionary Rustamji Committee.