National Energy Conservation Day 2022: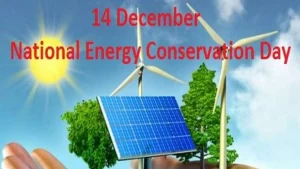 National Energy Conservation Day is celebrated every year on 14th December 2022.
The Ministry of Power, Government of India, launched the National Energy Conservation Awards in 1991 to recognise the contribution of industries and establishments in reducing energy consumption while maintaining their production through awards.
The Bureau of Energy Efficiency (BEE) spearheads the celebrations every year.
The first time the awards were given away was on 14th December, 1991.
Since then, the day has been declared as National Energy Conservation Day. These awards are given away by eminent dignitaries at a function organised every year on the same day.
The day focuses on making people aware of global warming and climate change and promotes efforts towards saving energy resources. It also highlights the achievements of the country in the fields of energy efficiency and conservation.
National Energy Efficiency Innovation Awards (NEEIA) 2022:
To recognize outstanding work and innovative minds of India in the area of Energy Efficiency, NEEIA awards were started in the year 2021.
The awards are evaluated based on Replicability, Affordability, Reliability, Impact on Energy Savings and Impact on Environment & Sustainability.
Launch of 'EV-Yatra portal' and Mobile App:
The Bureau of Energy Efficiency has developed a mobile application titled "EV Yatra" that has been designed and developed to facilitate in-vehicle navigation to the nearest public EV charger and a web-portal to enable Charging Point Operators (CPOs) to register their charging details securely into the National Online Database.