Periyar Tiger Reserve : Bird Survey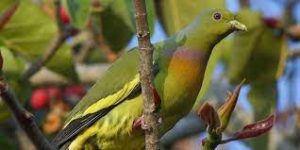 A four-day bird survey conducted by the forest department has identified 231 species of birds in the Periyar Tiger Reserve, of which 11 species of birds were not recorded during the previous surveys
Periyar Tiger Reserve located in the Western Ghats of Kerala.
It was declared a Tiger Reserve in 1978.
It gets its name from the River Periyar which has its origin deep inside the reserve.
Two main rivers, Pamba and Periyar drain the reserve.
It is home to many tribal communities including the Mannans and the Palians.
It consists of tropical evergreen, semi- evergreen and moist deciduous
Flora :There are more than 171 species of grasses.
Important flora includes teak, mangoes, rosewood, jamun, jacarandas, terminalias, tamarind, royal ponciana, bamboos etc.
Fauna Includes Elephants, Wild Pigs, Sambar, Gaur, Mouse Deer, Dole or Barking Deer, Indian Wild Dog and Tiger.
The major four species of primates are also found at Periyar – the rare lion-tailed macaque, the Nilgiri Langur, Gee's Golden Langur, Common Langur and Bonnet Macaque.
It Is also being considered as the habitat of the elusive Nilgiri Tahr.