Phosphine : At Deeper Level In Venus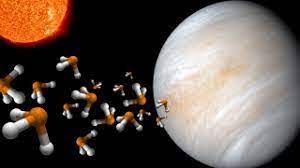 Scientists have detected phosphine at deeper level in Venus' atmosphere than before using the James Clark Maxwell Telescope (JCMT) at Mauna Kea Observatory, Hawaii.
Phosphine on Earth is developed naturally by bacteria that live in very low-oxygen environments.
To produce phosphine, Earth bacteria take up phosphate from minerals or biological material and add hydrogen.
It is also called as hydrogen phosphide.
It is a colourless, flammable, extremely toxic gas with a disagreeable garlic like odour.
It is formed by the action of a strong base or hot water on white phosphorus or by the reaction of water with calcium phosphide (Ca3P2).
It is structurally similar to ammonia(NH3), but phosphine is a much poorer solvent than ammonia and is much less soluble in water.
Phosphine is used in semiconductor and plastics industries, in the production of a flame retardant, and as a pesticide in stored grain.