PM-DAKSH Portal And App: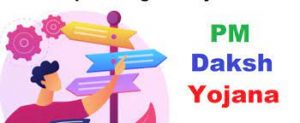 The government has launched 'PM-DAKSH' portal and app to make the skill development schemes accessible to the target groups of Backward Classes, Scheduled Castes and Safai Karamcharis.
The scheme is being implemented by the Ministry of Social Justice and Empowerment from the year 2020-21.
Under the scheme, eligible target groups are being provided skill development training programmes on up-skilling/reskilling, short term training programme, long term training programme and entrepreneurship development program (EDP).
Eligibility: Marginalized persons of SC, OBC, Economically Backward Classes, De-notified tribes, Sanitation workers including waste pickers, manual scavengers, transgenders and other similar categories.
Significance and the need for the scheme:
Most of the persons of target group are having minimal economic assets; therefore, provision of training and enhancing their competencies is essential for economic empowerment/ upliftment of these marginalized target groups.
Many of the persons of target group belong to the category of rural artisans who have become marginalized owing to coming of better technologies in market.
There is also a need to empower the women amongst the target group, who, due to their overall domestic compulsions, cannot be involved in wage employment which normally involves long working hours and sometimes migration to other cities.