National Internet Exchange Of India : 20th Foundation Day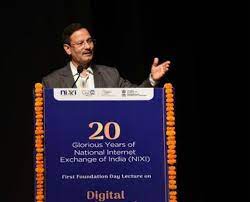 The National Internet Exchange of India (NIXI) celebrated its 20th Foundation Day, reaffirming its unwavering dedication towards building India's internet infrastructure.
National Internet Exchange of India (NIXI) was established in 2003 as a not-for-profit organization under the Companies Act 2013.
It is tasked to increase Internet penetration and adoption in India by facilitating the various infrastructure aspects to enable the Internet ecosystem to be managed and used by the masses.
Services which come under the NIXI:

Setting IXPs, towards Building Internet Exchange Points
IN Registry towards building the .in domain digital identity
Indian Registry for Internet Names and Numbers (IRINN) towards Internet Protocol (IPv4 and IPv6) addresses adoption.
Data Centre services under NIXI-CSC towards data storage services.