S. Somanath: Chairman Of ISRO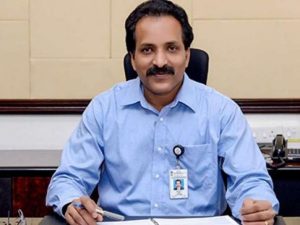 Eminent rocket scientist S. Somanath has been appointed Chairman of the Indian Space Research Organisation (ISRO) and Space Secretary.
Somanath is taking over the reins of ISRO at a critical juncture when sweeping reforms and critical missions and projects — the Gaganyaan human spaceflight mission included — are waiting in the wings.
Somanath, at present, has been serving as the Director of the Vikram Sarabhai Space Centre (VSSC) and the Indian Institute of Space Science and Technology (IIST).
Somanath has played a major role in the development of the PSLV and the Geosynchronous Satellite Launch Vehicle Mk-III (GSLV Mk-III). He joined the GSLV Mk-III project in 2003, and served as Project Director from 2010 to 2014.
Later on, he had a two-and-a-half-year stint as Director, Liquid Systems Propulsion Centre (LPSC), Valiamala, where he contributed to the development of the indigenous cryogenic stages for the GSLV. Dr. Somanath took over as the Director, VSSC, in January 2018.