PRASHAD Scheme: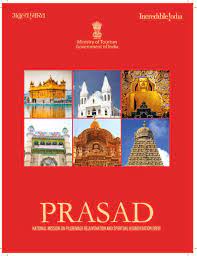 The Prime Minister has inaugurated various projects in Somnath, Gujarat under PRASHAD (Pilgrimage Rejuvenation and Spiritual, Heritage Augmentation Drive) scheme at a total cost of over Rs 47 crore.
The Somnath Exhibition Centre, developed on the premises of 'Tourist Facilitation Centre', displays the exhibits from dismantled parts of the old Somnath temple and its sculptures having Nagara style Temple Architecture of old Somnath.
This temple is also referred to as Ahilyabai Temple since it was built by queen Ahilyabai of Indore when she found that the old temple was in ruins.
Shree Parvati Temple is proposed to be constructed with a total outlay of Rs 30 crore. This will include temple construction in Sompura Salats Style, development of Garbha Griha and Nritya Mandap.
PRASHAD Scheme:
The 'National Mission on Pilgrimage Rejuvenation and Spiritual Augmentation Drive (PRASAD)' was launched by the Ministry of Tourism in the year 2014-15 with the objective of holistic development of identified pilgrimage destinations.
The name of the scheme was changed from PRASAD to "National Mission on Pilgrimage Rejuvenation and Spiritual Heritage Augmentation Drive (PRASHAD)" in October 2017.
Implementing Agency: The projects identified under this scheme shall be implemented through the identified agencies by the respective State/ Union Territory Government.
Objective:

Rejuvenation and spiritual augmentation of important national/ global pilgrimage and heritage sites.
Follow community-based development and create awareness among the local communities.
Integrated tourism development of heritage city, local arts, culture, handicrafts, cuisine, etc., to generate livelihood.
Strengthen the mechanism for bridging the infrastructural gaps.

Funding:

Under it, the Ministry of Tourism provides Central Financial Assistance (CFA) to State Governments for promoting tourism at identified destinations.
For components within public funding under this scheme, the Central Government will provide a 100% fund.
For improved sustainability of the project, it also seeks to involve Public Private Partnership (PPP) and Corporate Social Responsibility (CSR) as well.