President's Rule In Puducherry: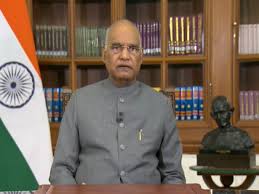 President's Rule has been imposed in the Union Territory of Puducherry, on the recommendation of the Lieutenant Governor, after the established government lost power during a vote of confidence.
The President was satisfied that a situation had arisen in which the administration of the Union Territory of Puducherry could not carry on in accordance with the provisions of the Government of Union Territories Act, 1963 (20 of 1963).
Article 239 to 242 under Part VIII of the Indian Constitution deals with the administration of Union Territories.
Every union territory is administered by the President acting through an administrator appointed by him.
An administrator of a union territory is an agent of the President and not a head of state like a governor.
The President can specify the designation of an administrator; it may be Lieutenant Governor or Chief Commissioner or
The Union Territories of Puducherry (in 1963), Delhi (in 1992), and Jammu and Kashmir (in 2019) are provided with a legislative assembly and a council of ministers headed by a chief minister.
But, the establishment of such institutions in the union territories does not diminish the supreme control of the President and Parliament over them.
The Parliament can make laws on any subject of the three lists (including the State List) for the union territories.