Mes Aynak: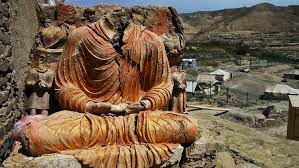 The Taliban regime in Afghanistan has said it would protect the ancient Buddha statues in Mes Aynak, also the site of a copper mine where the Taliban are hoping for Chinese investment.
Previously, they brought down the centuries-old Buddha statues in Bamiyan using artillery, explosives, and rockets.
The apparent change of heart over the Mes Aynak statues seems to be driven by economic interests, with the regime in desperate need of the income Chinese investment in the copper mines could generate.
The ancient Bamiyan Buddhas:
The Bamiyan valley, in the Hindu Kush mountains and along the river Bamiyan, was a key node of the early Silk Routes, emerging as a hub of both commercial and cultural exchange.
The Bamiyan Buddhas were great examples of a confluence of Gupta, Sassanian and Hellenistic artistic styles.
They are said to date back to the 5th century AD.
They were once the tallest standing Buddhas in the world.
They were called Salsal and Shamama.
Salsal means "light shines through the universe"; Shamama is "Queen Mother".
UNESCO included the remains in its list of world heritage sites in 2003.