Onam Festival : Kerala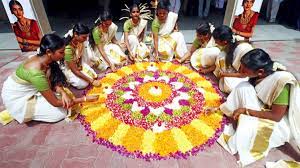 Onam festival has started in Kerala, bringing happiness, unity, and a lot of cultural beauty. The festival spans 10 days, commencing on Atham (the first day of Onam) and culminating on Thiruvonam (the final day).
It is a major harvest festival in Kerala and is celebrated to honour the home-coming of Asura king Mahabali who brought about peace and prosperity in Kerala.
It is also one of the three major festivals of Kerala, celebrated during the month of Chingam, the first month in the Malayalam calendar, Kollavarsham.
The other two major festivals of the state are Vishu and Thiruvathira.
Onam involves crafting Pookkalam, intricate flower rangolis. Alongside, a variety of rituals enrich the festivities, including Vallam Kali (boat races), Pulikali (tiger dances), Kummattikali (mask dances), and Onathallu (martial arts), among other captivating traditions.