5th Meeting Of The National Level Steering Committee Of Atal Bhujal Yojana: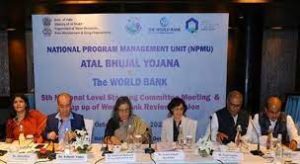 The 5th meeting of the National Level Steering Committee (NLSC) of Atal Bhujal Yojana (ATAL JAL) was held to review the overall progress of the scheme.
The World Bank has been involved in the review of the program. The committee encouraged states to integrate Water Security Plans (WSPs) into the Gram Panchayat Development Plans which will ensure the sustainability of the scheme's approach even after the program's completion.
Atal Bhujal Yojna:
ATAL JAL is a Central Sector Scheme for facilitating sustainable ground water management with an outlay of Rs. 6000 crore.
It is being implemented by the Ministry of Jal Shakti .
The scheme is being funded by the Government of India and the World Bank on a 50:50 basis.
The entire World Bank's loan component and central assistance will be passed on to the States as grants.
It aims to improve the management of groundwater resources in select water stressed areas in identified states viz. Gujarat, Haryana, Karnataka, Madhya Pradesh, Maharashtra, Rajasthan and Uttar Pradesh.
ATAL JAL promotes panchayat led groundwater management and behavioural change with a primary focus on demand-side management.