Ramon Magsaysay Award 2023: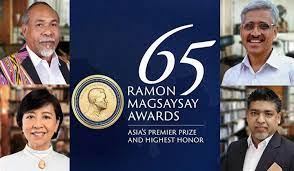 The Ramon Magsaysay Award, often called the 'Nobel Prize of Asia'. This year, in the ceremony's 65th edition, four Asians were given the Ramon Magsaysay Award. (Dr Ravi Kannan R. From India)
Dr Ravi Kannan R., the first formally trained oncologist in the Cachar Cancer Hospital and Research Centre (CCHRC), helped develop the non-profit facility to become the full-fledged, comprehensive treatment centre it is known as today.
The current CCHRC is home to twenty-eight departments, including but not limited to various aspects of cancer care such as oncology, radiology, tumour registry, etc.
Ramon Magsaysay Award:
It is Asia's premier prize and the highest honour celebrates the greatness of spirit and transformative leadership in Asia.
The Ramon Magsaysay Awardees, annually selected by the RMAF board of trustees, are presented with a certificate and a medallion with an embossed image of Ramon Magsaysay facing right in profile.
From 1958 to 2008, the Award was given in six categories annually:

Government Service: To recognise outstanding service in the public interest in any branch of government, including the executive, judicial, legislative, or military;
Public Service: To recognise outstanding service for the public good by a private citizen;
Community Leadership: To recognise leadership of a community toward helping the disadvantaged have fuller opportunities and a better life;
Journalism, Literature, and Creative Communication Arts: To recognise effective writing, publishing, or photography or the use of radio, television, cinema, or the performing arts as a power for the public good;
Peace and International Understanding: To recognise contributions to the advancement of friendship, tolerance, peace, and solidarity as the foundations for sustainable development within and across countries; and
Emergent Leadership: To recognise an individual, forty years of age or younger, for outstanding work on issues of social change in his or her community but whose leadership may not yet be broadly recognised outside of this community.

It is presented in formal ceremonies in Manila, Philippines, on August 31st, the birth anniversary of the much-esteemed Philippine President whose ideals inspired the Award's creation in 1957.