World Wildlife Day: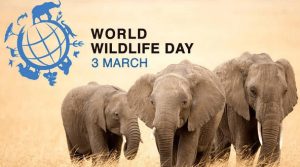 World Wildlife Day has been celebrated every year on the 3rd of March since 2013.
The date chosen coincides with the day of the Convention on International Trade in Endangered Species of Wild Fauna and Flora (CITES) which was signed in 1973.
The UNGA (General Assembly) resolution also designated the CITES Secretariat as the facilitator for the global observance of this special day for wildlife on the UN (United Nations) calendar.
Theme: Recovering key species for ecosystem restoration.
This theme is chosen as a way to draw attention to the conservation status of some of the most critically endangered species of wild fauna and flora.
This aligns with UN Sustainable Development Goals 1, 12, 14 and 15, and their wide-ranging commitments on alleviating poverty, ensuring sustainable use of resources, and on conserving life both on land and below water to halt biodiversity loss.
Our planet is currently facing the urgent challenge that is the loss of biodiversity and up to a million species could disappear in the coming decades if unsustainable human activity, climate change and habitat degradation are left unchecked.