ENTAZIA : Fungicide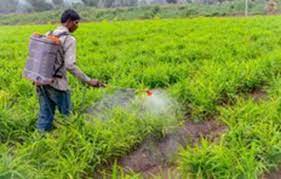 FMC India recently announced the launch of its latest product, ENTAZIA bio fungicide.
ENTAZIA is a bio fungicide crop protection product formulated with Bacillus subtilis.
It was developed by FMC India.
It will provide farmers with a powerful and sustainable tool to protect their crops from fungi while maintaining environmental integrity.
It leverages the natural capabilities of Bacillus subtilis to control bacterial leaf blight, one of the most serious diseases of rice.
By activating the crop's defence system against plant pathogens, it acts to prevent and control bacterial leaf blight while staying harmless to natural predators and parasites.
The biological product promotes natural pest defence by utilising the naturally occurring Bacillus subtilis to establish a robust line of defence against bacterial leaf blight.
By fostering a healthy plant microbiome, it bolsters plants' resilience to stress factors and contributes to overall growth and vigour.
It can be applied in an integrated pest management program with FMC's bio-stimulants and synthetic fungicides for additional plant benefits.
Leaf Blight is a plant disease that affects the foliage (leaves) of various plants, causing discoloration, wilting, and, in severe cases, the death of the leaves.