Ranthambore Tiger Sanctuary: Rajasthan: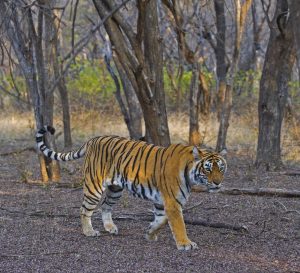 Six tigers are missing in Ranthambore Tiger Sanctuary (Rajasthan).
However, State forest officials are not willing to label them "missing" and denied reports that they may have been poached.
The National Tiger Conservation Authority, a wing of the Union Environment Ministry, has constituted a committee to ascertain the disappearance of the tigers.
The Ranthambore Reserve is the only source of tigers in the territory with about 53 tigers constituting over 90% of the population in this block, as per the latest census made public last year.
India has 2,967 tigers, a third more than in 2014, according to results of a census made public on July 29 last year. Ranthambore, according to this exercise, had 55 tigers.
Madhya Pradesh has the highest number of tigers at 526, closely followed by Karnataka (524) and Uttarakhand (442).
Chhattisgarh and Mizoram saw a decline in tiger population and all other states saw an increase.