Rashtriya Sanskriti Mahotsav 2021: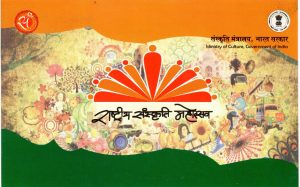 The third and final leg of the 11th edition of the Rashtriya Sanskriti Mahotsav 2021 took place at Murshidabad, West Bengal.
Various colorful performances were given by the local artists, including 'Baul Gaan', 'Alkup Gaan', 'Leto gaan', 'Jhumuriya' and Ranpa folk dances.
Rashtriya Sanskriti Mahotsav is the flagship festival of the Ministry of Culture.
It has been organized since 2015 with the active participation of Seven Zonal Culture Centres.
It was started with an intention to exhibit the rich cultural heritage of the country in all its rich and varied dimensions namely, Handicrafts, Cuisine, Painting, Sculpture and Performing Arts- Folk, Tribal, Classical and Contemporary- all at one place.
It has been playing a pivotal role to take the vibrant culture of India out to the masses instead of confining it to auditoria and galleries.
It has been instrumental in showcasing folk and tribal art, dance, music, cuisines & culture of one state in other states reinforcing the cherished goal of "Ek Bharat Shreshtha Bharat".
It also provides an effective platform to the artists and artisans to support their livelihood.
It reconnects the people (especially the youth) with their indigenous culture, its multifaceted nature, magnificence, and historical importance in the context of 'India as a Nation' over the millennia.
Till date, Rashtriya Sanskriti Mahotsavs have been held at various places such as Delhi, Varanasi, Bengaluru, Tawang, Gujarat, Karnataka, Tehri and Madhya Pradesh.