Protests In Cuba: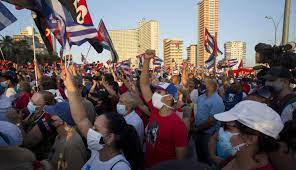 Thousands of Cubans took to the streets across the country to protest longstanding restrictions on rights, scarcity of food and medicines, and the government's poor response to the Covid-19 pandemic.
These protests are the biggest anti-government demonstrations on the Communist-run island in decades.
Ongoing Protests:
The anti-government protests erupted amid Cuba's worst economic crisis since the fall of the Soviet Union, its former ally, or end of the cold war (1945-1991).
Cuba has been an authoritarian communist state for more than six decades.
Cuba has been hit hard by US sanctions and Covid-19.
Cubans have been angered by the collapse of the economy, food and medicine shortages, price hikes and the government's handling of the pandemic.
Protesters shouted "freedom" and demanded for President Miguel Diaz-Canel to step down.
On the other hand, Cuba's President blamed the US for the turmoil.
He called tight sanctions imposed by the US on Cuba, has resulted in a policy of economic suffocation and is the prime reason for protests in Cuba.
Further, the US President said the US stands with the people of Cuba in their call for freedom.