Reconstitution Of The Mullaperiyar Dam's Supervisory Committee: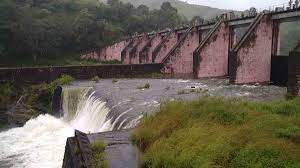 The Supreme Court ordered the reconstitution of the Mullaperiyar dam's supervisory committee.
The committee will include one technical expert each from Tamil Nadu and Kerala, the two States involved in the dispute concerning safety of the dam.
The court has empowered the panel with functions and powers on par with that of the National Dam Safety Authority (NDSA).
NDSA is a body envisaged under the Dam Safety Act, 2021.
For any act of failure, "appropriate action" will be taken against the persons concerned not only for having violated the directions of the court but also under the Act
The act talks of one year imprisonment or fine or both for refusal to comply with directions of bodies formed under the law.
As per the Supreme Court latest order, the two States are expected to nominate, within two weeks, one representative each to the supervisory committee, in addition to one nominee each.
The Mullaperiyar, a 126-year-old dam, is located on the confluence of the Mullayar and Periyar rivers in Kerala's Idukki district.
The dam stands at the height of 53.66 metres and 365.85 metres in length.
The dam is owned, operated and maintained by Tamil Nadu.
Tamil Nadu maintained it for several purposes, including irrigation, drinking water supply and hydro-power generation.
In late 1979, after the eruption of the controversy over the structural stability of the dam, it was decided at a tripartite meeting chaired by K. C. Thomas, the then Chairman of the Central Water Commission that the water level be lowered to 136 feet against the full reservoir level of 152 feet so that Tamil Nadu could take up strengthening measures.
In 2006 and 2014 the Supreme Court held that the water level be raised to 142 feet, up to which Tamil Nadu stored water even last year (2021).
The court's judgment of 2014 also provided for the formation of the supervisory committee and the completion of the remaining work by Tamil Nadu.
But, there has been no end to litigation over the dam with Kerala witnessing landslides in recent years.
Though there had been no reports of landslides in the vicinity of the dam site, the events in other parts of the State led to a renewed campaign against the dam.
The Kerala government proposed that the existing dam be decommissioned and a fresh one be built
These options are not completely acceptable to Tamil Nadu which wants to complete the remaining strengthening work and restore the level to 152 feet.